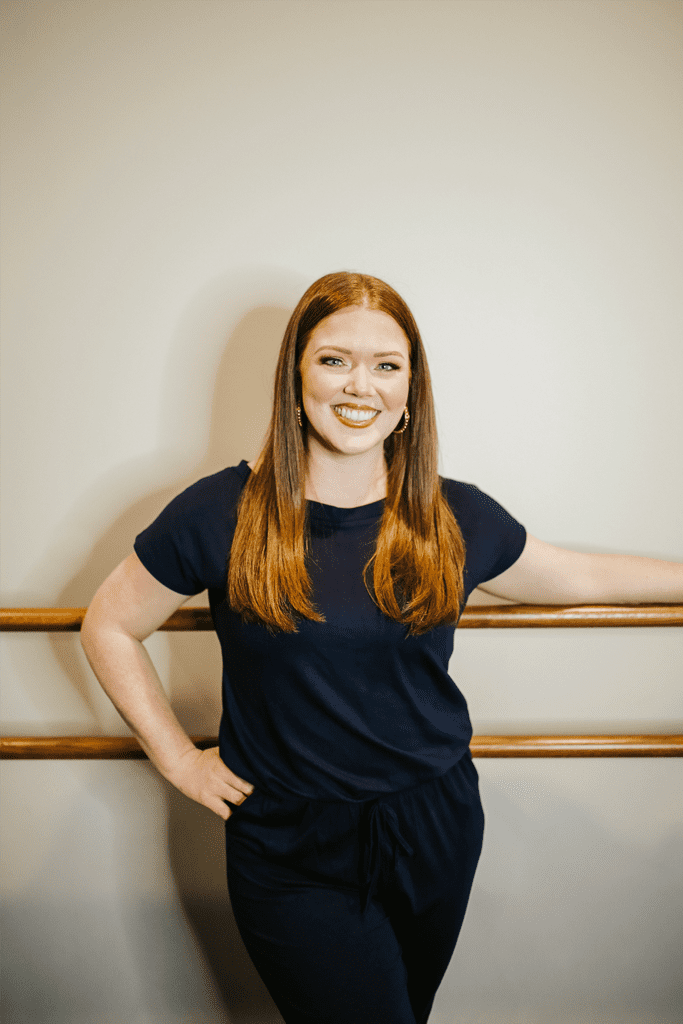 Rebecca began her dance training at the age of three with Dorothy Taylor at Ballet Westside in Rogers, AR. She began teaching dance at GDDS in 2007. Her training includes classes in ballet, pointe, tap, jazz, lyrical, contemporary, hip hop, and musical theater with such accomplished teachers as Joe Tremaine, Doug Caudwell, Darryl Retter, Barry YoungBlood, Mishay Petronelli, Noel Bajandas, Anthony Morigerato, Denise Wall, Stacey Tookey, Doug Shankman, Patricia Dickinson and more. In 2015 she attended the Oklahoma City University Teacher Training Seminar under the direction of Jo Rowan. She is a certified Progressing Ballet Technique instructor. Rebecca has trained at Broadway Dance Center in New York City, recently completing their Dance Teacher Workshop. Rebecca is a graduate of UAFS with a Bachelor of Business in Administration-Marketing and was a member of the University of Arkansas – Fort Smith Pom Squad for four years. Rebecca became the owner of GDDS in the summer of 2018.
Grow With Me Creative Movement
Suggested for dancers age 18 months to 2.5 years old
Requires participation with a parent, grandparent, guardian, caregiver, etc.

Thursday 4:00 – 4:45 (0 years experience)
Combination Tap and Ballet
Suggested for dancers age 2.5 years old to kindergarten

Tuesday 10:00 – 11:00 (age 2.5 to 3 | 0 years of experience)
Combination Ballet/Tap/Jazz
Level I: Suggested for dancers in kindergarten to third grade
Monday 4:00 – 5:30 TBJ (age 5 and up | 0 to 1 year experience) with Franco Baleto
Tuesdays 4:30 – 6:00 TBJ (age 7 and up | 1 to 2 years experience) with Madysn Casteel
Wednesday 5:00 – 6:30 BTJ (age 5 and up | 0 to 1 year experience) with Mary Young
Thursday 5:30 – 7:00 TBJ (age 7 and up | 2 to 3 years experience) with Robbi Martin
Level II: Suggested for dancers in second to fifth grade
Monday 5:00 – 6:45 BTJ (age 9 and up | 5 years or more experience) with Jayci James & Kayli Sossamon
Tuesday 4:00 – 5:45 TBJ (age 8 and up | 4 years or more experience) with Brianna Lane
Level III: Suggested for dances fourth to eighth grade
Monday 4:00 – 6:15 BTJ (age 11 and up | 7 years or more experience) with Jayci James
Thursday 5:00 – 7:15 TBJ (age 10 and up | 5 years or more experience) with Jayci James & Kayli Sossamon
Level IV: Technique Classes
Tap: Suggested for dancers in seventh to ninth grade
Tuesday 6:45 -7:15 (age 13 and up | 9 years or more experience)
Advanced Tap
Suggested for dancers in high school
Wednesday 7:15 – 7:45 (age 15 and up | 12 years or more experience)
Musical Theatre
Character heels required for class
Level I: Wednesday 4:00 – 4:45 (age 6 and up | 2 years or more experience)
Level II: Wednesday 4:45 – 5:30 (age 10 and up | 4 years or more experience)
Level III: Monday 7:30 – 8:15 (age 12 and up | 6 years or more experience)
Advanced: Monday 6:45 – 7:30 (age 14 and up | 9 years or more experience)